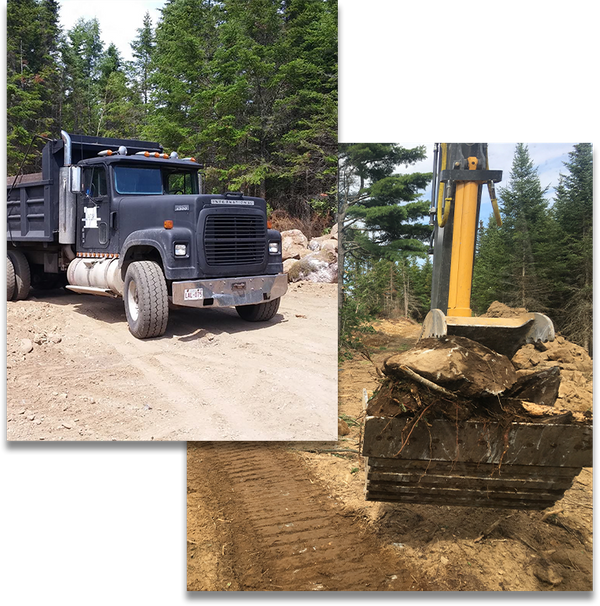 Our Services
We do all types of excavation but specialize in drainage for your home and property. We offer our positive drainage no washout Guarantee* for all complete site drainage design and build projects. excavator services for drain tile, ditches, culverts, Licensed septic installer and much more. All of our work is in accordance with the Canadian building codes with all service locates, permits, environmental controls in place. Feel free to contact us anytime for a project.
Excavations - Trenching - Irrigation - Perimeter ditching - Site dewatering - Ponds
Pre-stripping / pit pioneering - Overburden removal and stockpile - benching

Road Construction and Maintenance - Snow Clearing and removal - salting and sanding

Water & Sewer Tie Ins - Catch basins - Water & sewer lines repair & replacement

Driveway Contouring and Resurfacing - Farm Fields - Blueberry Ground Flating
Environmental Clean Up - Erosion Protection - Soil Remediation - Composting
hydroseeding - Hand Seeding - Sod Laying - Sod Removal - Waterfalls/Features
Home Renovations - Full Guts - Walkout Basements - Decks and Fences - Metal Roofs
New Custom Homes - Garages - Storage Buildings(Metal or Wood) - Sheds/ Barns
Concrete or ICF Foundations - Slabs - Walkways - Stamped Patios - Prefab Stairs
Gravel - Sand - Crushed Rock- Tailings - Top Soil - Mulch - Armour Stone - Washed Rock
Paving - Heated Driveways - Patch Work - Stamped Decorative Asphalt
Hauling - Equipment Floating - Tandems - Flatdeck Trailers- Dump trailer- Hotshotting
Hardscapes - Retaining Walls - Patio Stones - Pavers - Natural Rocks Stairs
Landscaping - Lawn Maintenance - Tree Trimming -Tree Felling - Debris Removal
Access Permitting - Wetland Alteration Permits - Septic Permits - Building permits
Design and Build We turn your plans into reality guided from first draft till completion
Consulting - property assessments pre/post purchase - drainage plans - land development -
We run our trucks for jobs when possible, but we also Subcontract bigger and multiple trucks from reliable companies depending on priority of the haul to speed up the process. we specialize in delivering loads to both commercial and residential customers in record time. Try our Priority Service today. We offer all sizes of crushed rock, different grades of topsoil, screened gravel, sand and various decorative products such as bark mulch, pea stone and large decorative boulders.
Please give us a call with any questions on materials and delivery.